Lobster Guide for Admins
CONTENTS
Rolling Out Lobster
User Management
– Creating New User Accounts
– Deactivating User Accounts
Lobster Features Available Only for Admins
– GDPR Auditing
– Reports
ROLLING OUT LOBSTER
Anyone who has managed a software rollout will tell you it's not always easy. We humans are creatures of habit, and habits are especially hard to break in the workplace. Though change can be hard, many organisations have been there before you. Here is what we have learned from teams that use Lobster successfully:

First, make sure your team understands the benefits and why the change is necessary. Organisations need to keep in mind that their employees have been using the old ways of working for quite some time. As a result, it takes effort to convince and motivate people to change their existing work routines.
More about the benefits of using Lobster

Secondly, provide adequate training and support for all new users. In larger organisations we recommend first training a small group of key team members before extending the training to all Lobster users in your organisation. You'll want to assemble a core team of Lobster users to help lead the charge.

Thirdly, with the core team, set up the theme and project model to match the way you work.
In the first training session dedicate time to creating the structure for your organisation's Lobster. This means taking a look at how your organisation does advocacy work. What are your organsation's long-term strategic themes and goals? What are the more specific projects where the daily work happens?

Seeing your organisation's advocacy work mapped out in Lobster will greatly help your team to understand how Lobster works and how it will benefit them.
We at Lobster are very happy to assist and accommodate the process of getting your Lobster up and running, so don't hesitate to contact us and book a training session for your team.
More Resources:
Getting Started with Lobster
Guide to First Steps in Lobster


USER MANAGEMENT
Lobster uses your organisation's SSO for user management.

Creating New User Accounts

To invite users to Lobster, send them the link to Lobster. Once a user logs in to Lobster with SSO, you will get an email as you need to approve their account. This is done in the settings tab on your Lobster Dashboard.


Once you have approved the account, the user gets a message welcoming them to Lobster.
Deactivating User Accounts

When a team member leaves your organisation or has no need to use Lobster, we recommend that you just remove their approval from the user's settings. This way the data related to their work will still remain available, but the user will not be able to access Lobster.
LOBSTER FEATURES AVAILABLE ONLY FOR ADMINS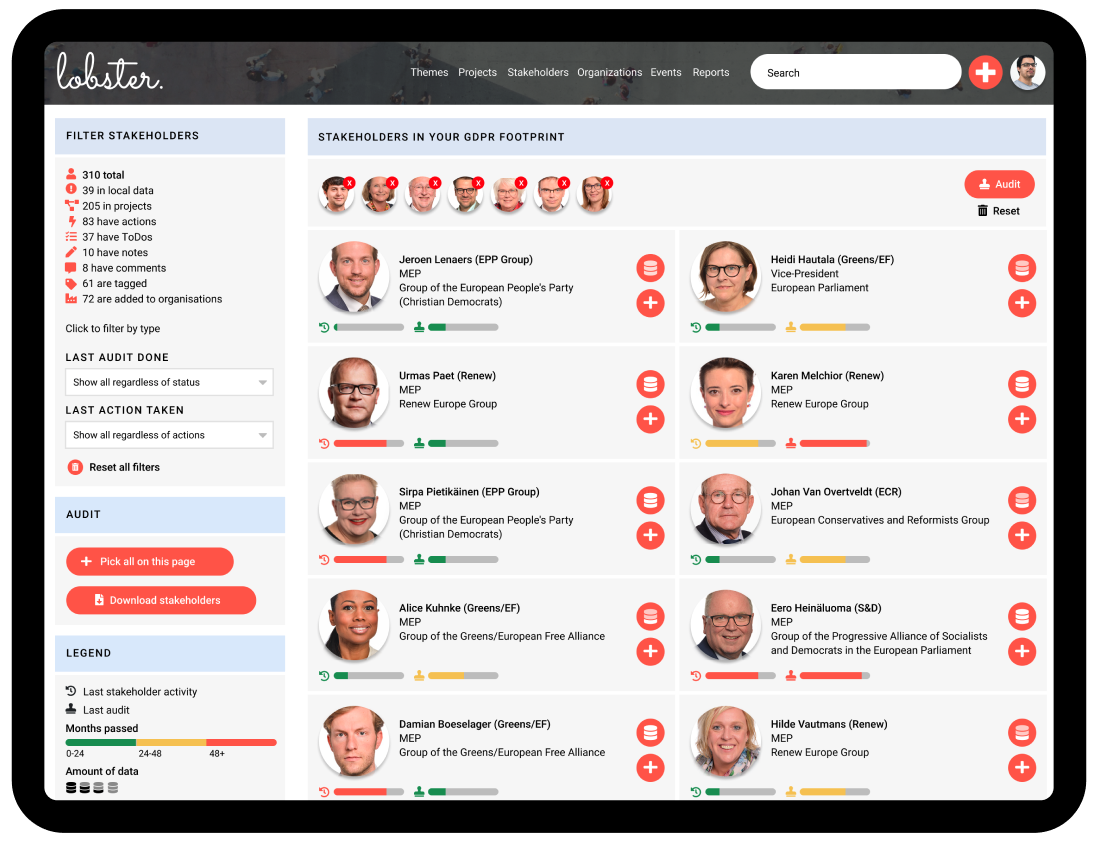 GDPR Auditing
Any organisation that does effective advocacy work tends to accumulate stakeholder data of politicians and officials over time. GDPR Auditing helps your organisation stay in GDPR compliance with this accumulated stakeholder data. Learn more

Reports
One of the key advantages of Lobster is that you can see everything that is going on in your organisation, at a glance. Whether you are writing an annual report or planning future activities, this will save you a lot of time.
More on Lobster's Reports