PUBLIC AFFAIRS TEAM MANAGEMENT
Bring Your Team Together to
Drive Maximum Impact
Equipped with an accurate view of the political environment, a clear vision of the goals, and improved coordination, your team finds the most effective paths for maximum impact.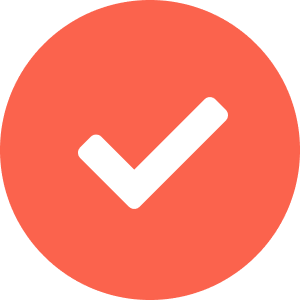 BUILT FOR TEAMWORK
Always know what's going on. Lobster ensures better coordination of your organisation's efforts.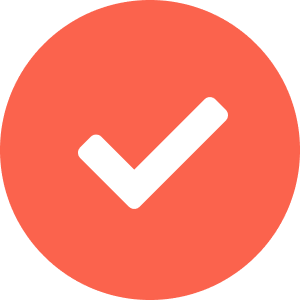 STANDARDISED PROCESS
Our unified lobbying process helps your team efficiently plan actions on the issues and policies relevant to you.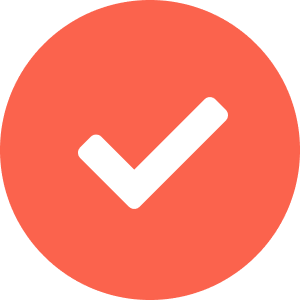 GET RESULTS WITH METRICS
Lobster's goals and metrics-driven approach helps your team learn which approaches work and which don't.
Your team deserves state-of-the-art Public Affairs tools to thrive
Lobster helps Public Affairs teams to plan, manage, and visualise their work. With every step documented, your team learns which approaches lead towards successful policy change and the growth of your political reach and which don't.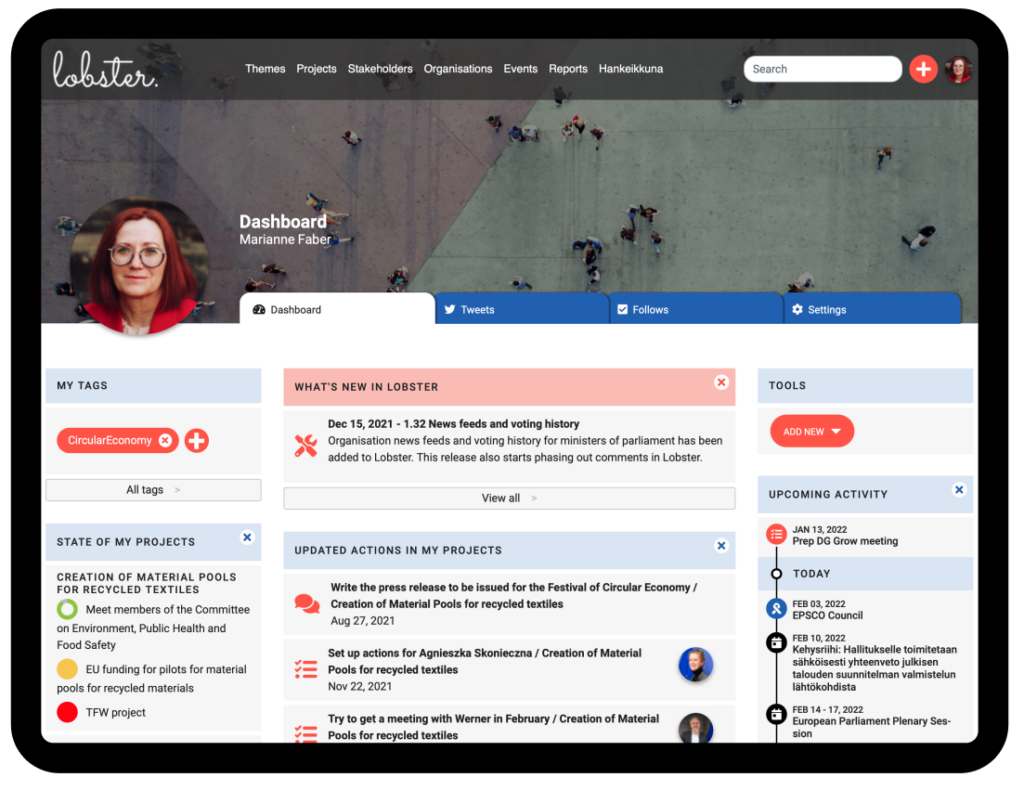 Always know what's going on in your organisation. With our No Silos approach, all data is centralised and openly available to every user in your team. When you are planning an important meeting, you see your organisation's history with the stakeholders. Who else in your organisation has had contact with them? Is someone else already planning on meeting them?
See the big picture. Lobster's timelines show you all past and future actions at a glance. Actions are shown in a relevant context, be it the whole organisation, a stakeholder, or a lobbying project. When you need to know more, details are accessible with just one click.
Discover the power of your team's networks. Connections are at the core of lobbying. Which networks do people belong to? Who should you talk to? With Lobster's visualized influencer networks you'll see who is connected to the stakeholders you need to reach.
Track the progress of a lobbying campaign easily. When planning and executing a lobbying campaign, it's important to keep track of effectiveness of different actions. Has our team been able to secure meetings with the key stakeholders? Have the attitudes moved in the right direction? With Lobster's goals, your team can easily analyse which approaches worked and which didn't, and learn how to be even more effective in the future.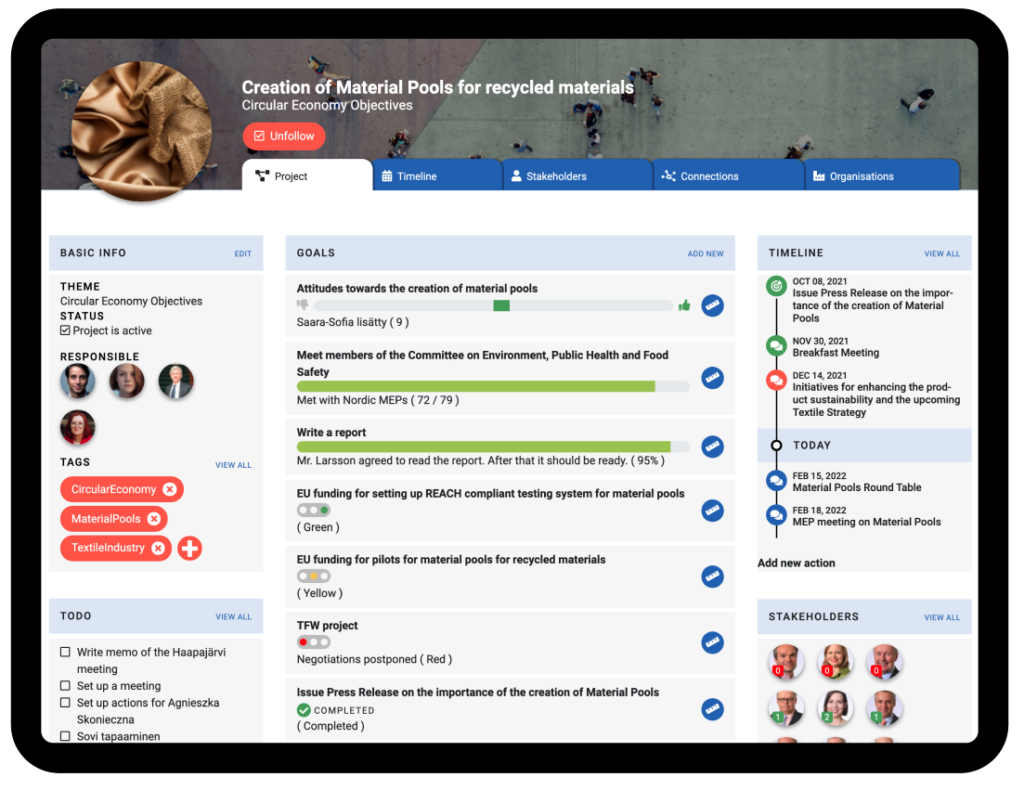 Easy delegation of tasks. With Lobster's project tools, you can quickly delegate tasks among your team and stay automatically updated about their progress. Lobster's timelines help to visualise the actions needed for reaching your goal so that everyone is on the same page on what needs to be done.
Weekly email digests upcoming activities of the week. If you are pressed with time, our email digest delivered every Monday keeps you up-to-date on upcoming activites and meetings of your team.
Reporting made simple. "I love digging up data for reporting" said no one ever. With Lobster, all your organisation's activity, all meetings with stakeholders and different organisations are just one click away. And you can export the data to Excel if you have needs to analysize it even further.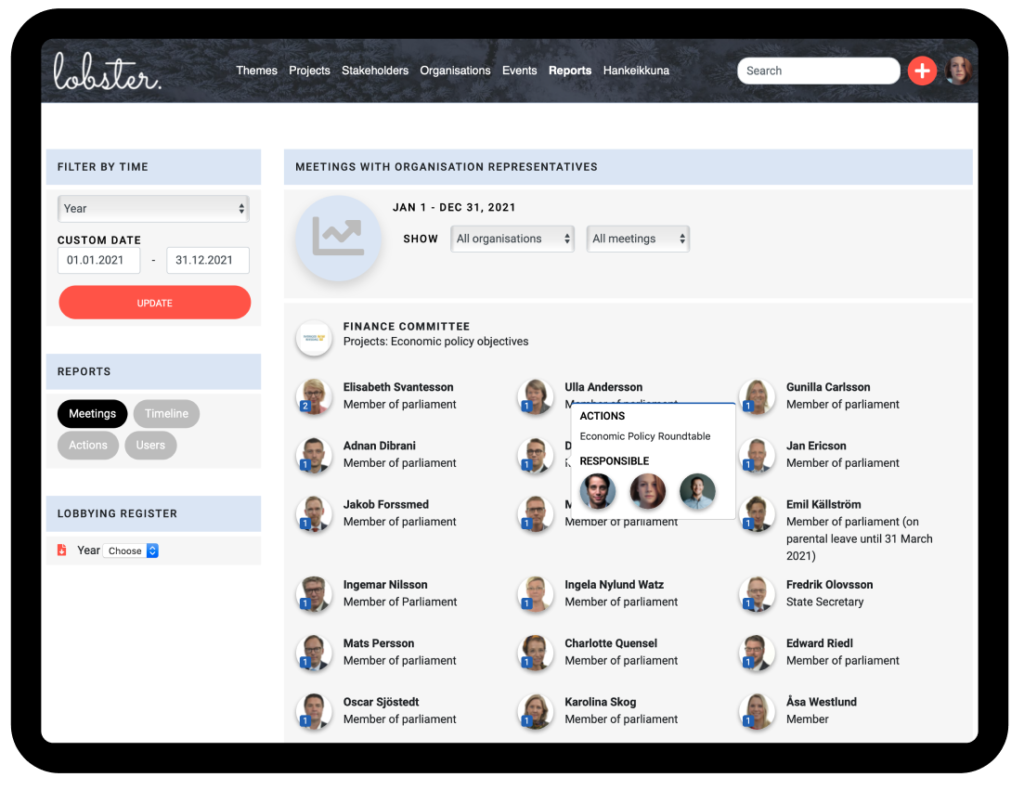 Lobster helps to build organisational memory. Public Affairs is often seen as a field where personal relationships are everything. However, as people come and go it's increasingly important to document the work so that past experiences can provide valuable knowledge for future actions. When a colleague leaves for a new job, it's important that all their knowledge does not walk out of the door with them.
Get new team members up to speed easily. Having good documentation also means that you'll need to spend less time briefing new colleagues, as they can study the backgrounds of your organisation's lobbying campaigns from Lobster. 

Always in Your Pocket. Going to an appointment and need information? You will find all the essential information in Lobster. All of your projects and information are safely stored in one cloud service, in correspondence with GDPR.
Teams? Slack? Outlook? Drive?
Lobster works seamlessly with the other tools used in your organisation.
LETS'S TALK
See Lobster in Action
Learn how our customers have made their advocacy work more effective and how Lobster can benefit your team. Schedule a 30 minute online demo from below or email us at info@lobster.ist.