One of the key advantages of Lobster is that you can see everything that is going on in your organisation, at a glance. Whether you are writing an annual report or planning future activities, you need to see the big picture. Which organisations and stakeholders has your team met recently? Who were they not able to meet? Who are they planning to meet in the future?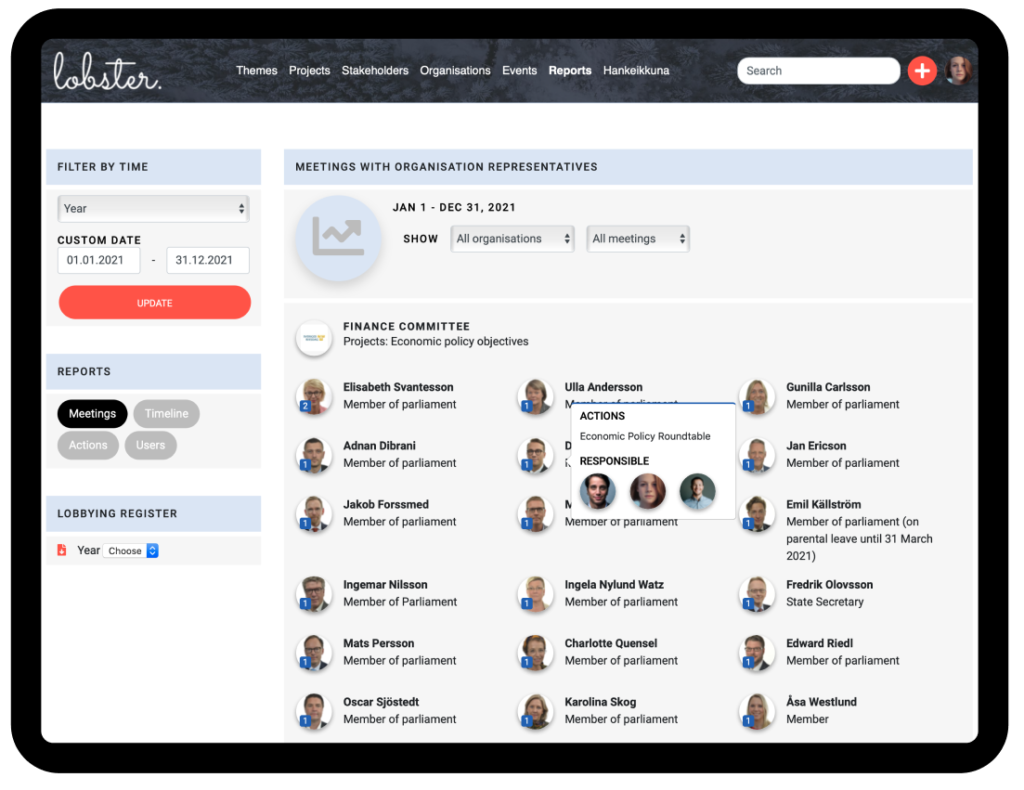 With many of our customers doing annual reporting this time of the year, we are happy to present Lobster's new and improved reports.
All reports can be filtered by time and you can choose which types of organisations are included. You can also choose whether you want to see all stakeholder meetings, just the ones that were completed or the pending ones.
The Meetings Report shows which organisations have the most meetings associated with them. The listing includes also the projects those meetings are related to and naturally the stakeholders involved. To gain even more insight, just roll your mouse over the stakeholder and you'll see which actions precisely they were involved in and who were the team members responsible for those actions.
The Timeline Report is most useful when you want to establish a chronological view of events. It's especially useful when you are planning the future actions of your organisation. The timeline includes all TODOs, actions, and goals and shows their status, whether they are completed or not, as well as related stakeholders. You can also choose whether Lobster events are included on the timeline or not.
The Actions Report is a great way to take a deep dive into all the Lobster activity. This report shows not only stakeholder meetings, but also events, campaigns, and other meetings. You can filter results to show completed activity or just the pending ones.
The Users Report is useful when you need to see what your team members have been up to. It's also very useful when your organisation starts using Lobster. By observing the user activity, you can see which team members have integrated this new tool into their routines and which ones may need a bit more help or training.
And just like before, you can export the lobbying register to Excel with a click of a button.
We hope that these improvements to Lobster will not only help to see the big picture but save time from reporting. After all, you want your team to focus on the work that counts most: establishing and cherishing the stakeholder relationships and get results through meaningful conversations.