Themes are broad, strategic lobbying goals with one or more projects connected to them.

A Theme helps senior management and portfolio owners to follow the progress of lobbying projects related to larger strategic goals. A Theme brings together all the activities of the projects associated with it and can be enriched with attachments, background memos and notes.

As all lobbying projects in Lobster live under a theme, you will need to create at least one theme to start using Lobster to plan your lobbying projects.

When thinking of the themes, we recommend looking at your organisation's strategy to map out the key themes of your advocacy work. For Public Affairs consultants, we recommend creating a theme for each client.
Themes are flexible, so do not worry about creating a perfect theme structure right at start. You can add new ones when needed and inactivate the ones you don't need any more. You can also easily move a project from a theme to another if needed.
Creating a Theme
You can create a theme anywhere on Lobster, just click +button on the top menu and choose Add new theme.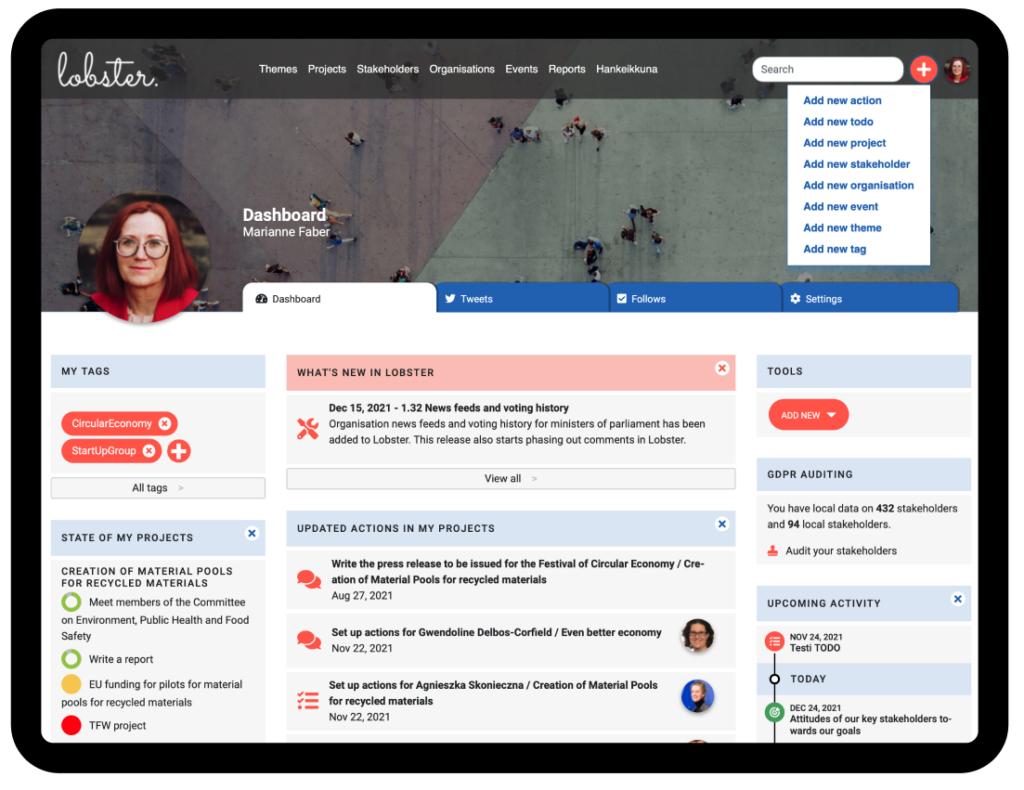 A new page opens for creating a new theme.
Name the theme and choose whether the theme is active or not. An active theme appears in most listings in Lobster. A theme that is not active is left unlisted in most cases. However, the activity setting does not remove a theme from Lobster.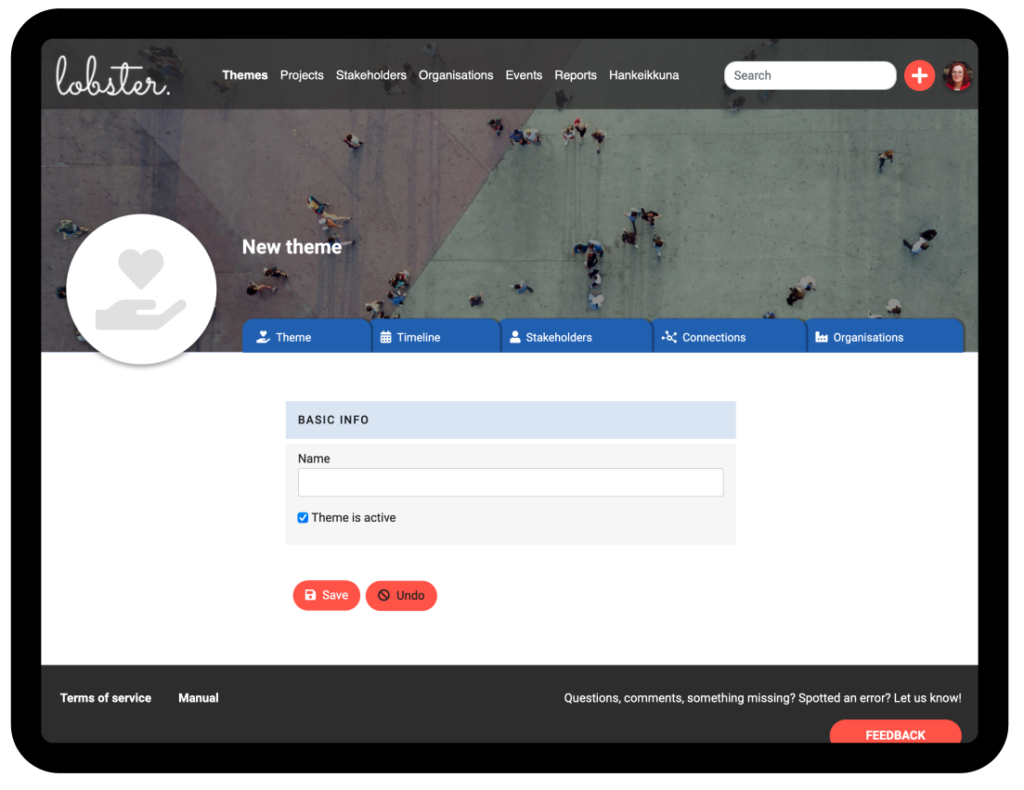 Once you have named the new theme and saved it, an Update Comment form will appear at the bottom of the page. This is a way for you to notify your team about things you have added to Lobster. You can either write a comment or delete the notification, depending on your situation. Learn more on Update Comments.
Now you can start to add more information to the theme.

We recommend choosing the theme an icon image to make it stand out in Lobster listings. You can also add relevant tags or edit the theme's background info.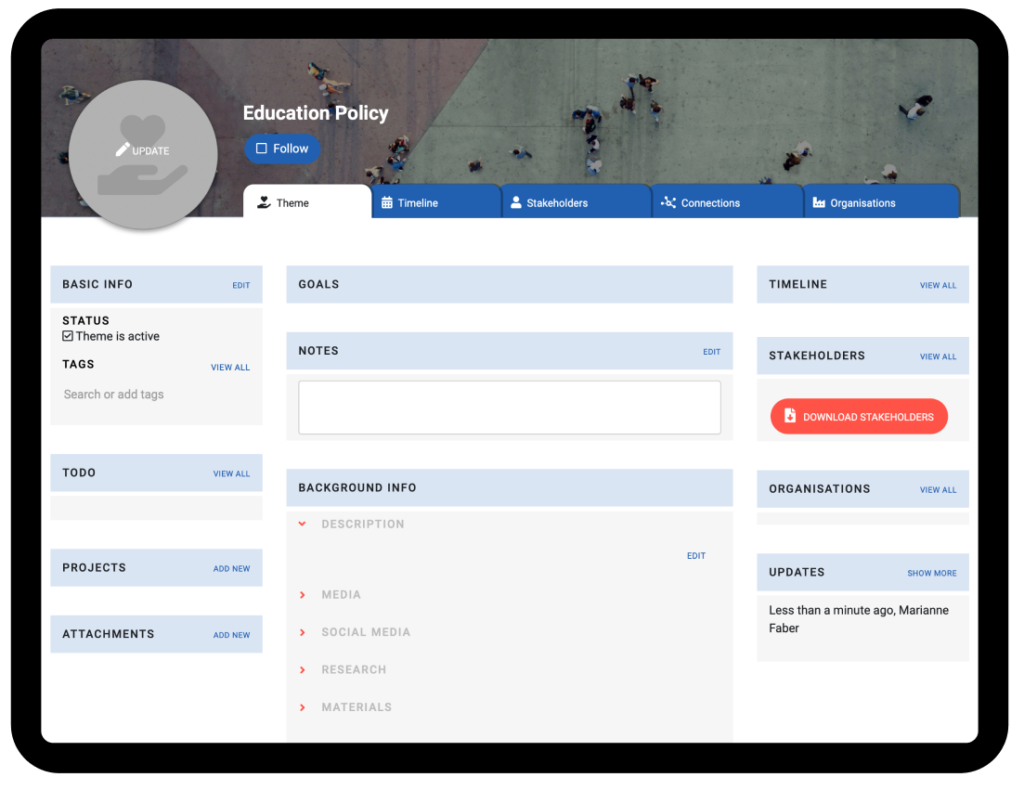 Attachments are not uploaded to Lobster but linked with URL from e.g. Sharepoint, Google Drive or Dropbox. To find the URL, or file link, from Sharepoint, see Microsoft's help page: See item Get a link to a file or folder that you can copy. For Teams the help page is available on Microsoft Support site: Get link to a file in Teams.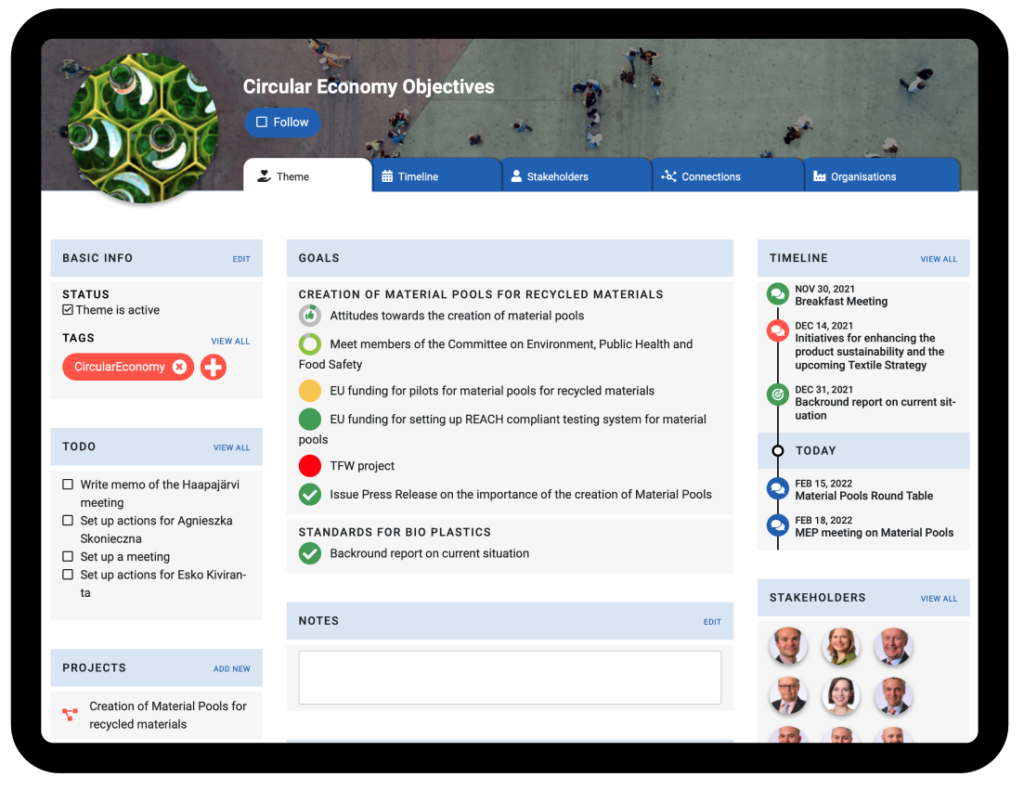 Note that TODOs, goals, stakeholders, organisations and the timeline will automatically update once you add projects to a theme. This way a theme provides a clear summary of all the lobbying activity related to it.